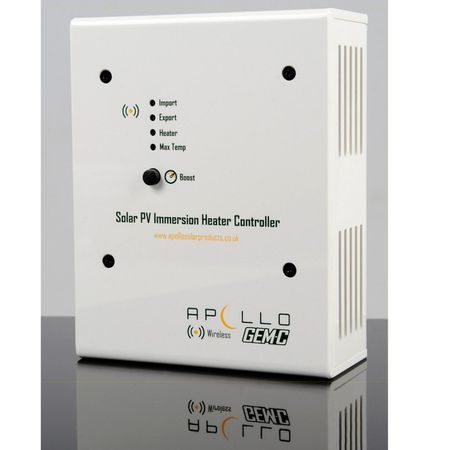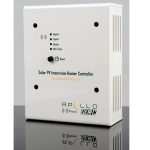 Apollo GEM-C wireless compact immersion controller
Enter code GIVEME10 during checkout for £10 off your inverter order! (Online orders only)
£275.00
"Do these prices include VAT?"
All our prices are fully inclusive of VAT.

"How much is delivery?"
Delivery is included too. For Scottish Highlands and non-mainland, supplements apply which will automatically update during checkout.

"Are there any extended warranties available?"
Yes, inverter warranties can be extended and this will be offered to you during checkout.

"What about monitoring?"
All our inverters have low cost monitoring solutions which will be offered during checkout. All PV systems should include monitoring to avoid lost FIT revenue in the event of a fault.

"Can I really fit my own inverter?"
It's a straightforward task for a competent DIYer. Click here for our guide.



Description
The GEM-C is the latest addition to the Apollo GEM line of PV Energy Management Systems from Apollo.
Built using the same technology as the other products in the GEM range to give unsurpassed reliability, precision measurement and control accuracy but in a simpler, smaller and more cost effective package.
The GEM-C uses wireless technology and a single power sensor clamp for simple installation in almost any situation.
Clear LED indication shows grid import & export power, heater power and temperature.
A 1 or 2 hour immersion manual boost function is also provided.
The GEM system works by accurately monitoring the power being imported or exported and always diverts sufficient power into the hot water system in order to keep the exported power to as near zero as possible whilst at the same time ensuring that no additional power is ever imported to supply the hot water store.
Apollo GEM-C Wireless Features
• Attractive compact unit measuring 145h x 115w x 50d
• Power saving starts from around 70W PV surplus
• Informative LED display shows:
Household import power level
Household export power level
Heater power level
Water up to temperature indication
• Accurate power measurement and heater control
• Fast response time for accurate control under changing generation and
load conditions
• 1 or 2 hour hot water boost function
• Power sensor extendable to 100 meters
• High reliability due to all solid state, dual redundant design
• 5 Year Warranty