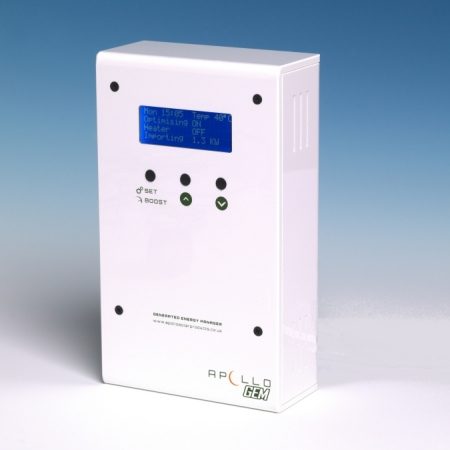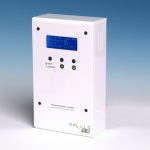 Apollo GEM immersion and appliance control system
Enter code GIVEME10 during checkout for £10 off your inverter order! (Online orders only)
£299.00
"Do these prices include VAT?"
All our prices are fully inclusive of VAT.

"How much is delivery?"
Delivery is included too. For Scottish Highlands and non-mainland, supplements apply which will automatically update during checkout.

"Are there any extended warranties available?"
Yes, inverter warranties can be extended and this will be offered to you during checkout.

"What about monitoring?"
All our inverters have low cost monitoring solutions which will be offered during checkout. All PV systems should include monitoring to avoid lost FIT revenue in the event of a fault.

"Can I really fit my own inverter?"
It's a straightforward task for a competent DIYer. Click here for our guide.



Description
The Apollo GEM system is the most advanced, accurate and versatile micro generation load management device in its class.
Apollo GEM can divert surplus generated PV or wind power which would have been exported to the grid to produce hot water, run heaters, power a battery charger or any other appliance. It has two outputs, allowing two heaters or other appliances to be connected to the system.
Apollo GEM can work in two distinct modes; variable power mode and threshold power mode.
In variable power mode the system accurately monitors the power being imported or exported to the property and diverts sufficient power into a hot water or other heater in order to keep the exported power to as near zero as possible whilst at the same time ensuring that no additional power is ever imported to supply the heater. Priority is always given to the energy demands of the household appliances and only surplus energy that would have otherwise been exported is stored in the hot water system.
In threshold power mode Apollo GEM uses a programmable threshold to determine when enough surplus power is available from the micro generation system to power a connected appliance. This mode would be used typically to power non-heating appliances that cannot use a variable power supply. Again, priority is always given to the energy demands of other household appliances. For hot water heating the Apollo GEM system uses a standard electric water element.
The Apollo GEM is designed to be close to the electricity supply. If it is intended to install it remotely, e.g. in an immersion cupboard, then you will require either a wireless upgrade kit (offered during checkout at £74.95), or the Apollo GEM-C wireless compact immersion controller.
Features
• Accurate power measurements
• Precise intelligent power control
• Two fully variable outputs
• Variable power or full power threshold control
• Highly reliable dual redundant solid state power electronics
• Bright 4-line display
• Continuously displays property import/export power
• Water Temperature Sensor Option
• Full featured timer and boost functions
• Auto-Boost Function
• 5 Year Warranty